Choose Your Pony
Click the green flag to begin. Choose the saddle, bridle, and saddle pad for your pony in the tack room. Choose a coat color and eye color when you click on the ponies button. Change the pony's face and leg markings, and select the type and color of mane and tail you want your pony to have.
Take a screen shot of the pony you create and tag it on social media with @allpony on Facebook or @allponyplaylearnride on Instagram for a chance to win a free Horses & Ponies Activity Book!
More Fun & Learning About Horses
Play More Free Horse Games
Horsemanship fun and learning games about saddles, coat colors, trailering, horse sports and more.
Horsemanship Quizzes
Free horse quizzes with a certificate of accomplishment for each one. Get on the leaderboards for each quiz!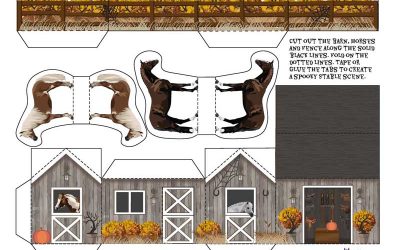 Looking for some Halloween and fall themed activities for your horse enthusiast? Check out the Allpony fall crafts and activities downloads!
read more
We found the scariest looking abandoned horse stable photos, and we get spooked just scrolling through them. Hold onto your helmets and enjoy scrolling through our favorite scary barn pics!
read more